7TH BUSWORLD TURKEY LAUNCHED SUCCESSFULLY IN IZMIR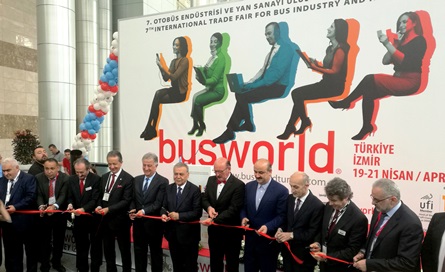 7th

busworld turkey launched successfully ın ızmır



SPARK Consultancy was one of the important media partners in the opening ceremony of The seventh edition of Busworld Turkey is, like all the previous editions, being organized by Busworld International and its partner, HKF Trade Fairs with the support of TOF and İzmir Metropolitan Municipality. The exhibition kicks off today, from 19 to 21 April in hall B of the "Fuar İzmir" for the first time.
The exhibition showcases one of the most important countries in the manufacture of buses and coaches, and all their many components and services. In 2018, we are welcoming the 130 exhibitors from 25 countries active in the bus and coach industry, such as: BMC, OTOKAR, ANADOLU ISUZU, GÜLERYÜZ, MAPAR-MAN and many more.
Like every Busworld exhibition, potential exhibitors are all companies involved in the bus and coach industry, such as: coach – bus – minibus manufacturers and bodybuilders, spare parts, accessories, fuel, equipment, insurance coverage, information technologies, tourism, banks and all other services and products designed for the coach and bus industries.
 5As a part of Buyer delegation program, Azerbaijan, Georgia, Lithuanian, Moscow, Iran  Ministry of Transportation Heads of Departments, İzmir, Sanliurfa, Kocaeli, Adana, Aydın, Edirne, Balıkesir, Denizli, Ankara, Gaziantep, Hatay, Istanbul, Kahramanmaraş, Kayseri, Kocaeli, Mardin, Mersin, Muğla, Ordu, Tekirdağ,  Eskişehir, Malatya Municipal Transport Department Heads and IETT, ESHOT Municipal Mobility companies' representatives will visit the fair in order to follow the latest innovations in the sector and negotiate with the exhibitors between 19-21 April.
This year the trade show will also host an international conference concerning with ""The Future of Bus-Mobility"" organized by Busworld Academy on the 19th and 20th of April at HALL B Foyer Seminar Room and a seminar concerning with "Transportation Electronic Tracking and Control System" " organized by Ministry Of Transport, Maritime Affairs And Communications, Directorate General Of Road Transport Regulation, on the 20 April at C Foyer Seminar Room.
The position of Turkey on global bus & coach market
Sales of buses and midi buses to the home market rose substantially in 2017, compared with the previous year. Turkey is making progress in renewing city bus fleets, and the intercity express coach market remains strong. The country relies heavily on buses and coaches for public transport.
Turkey is also a major exporter of buses and coaches. Last year, according to OSD, the Turkish manufacturers trade association, there were exports of a record 44,440 buses and coaches of all sizes, valued at USD1.15 billion! That is a very impressive performance and it does not include many components and accessories delivered by the Turkish supply industry to manufacturers and markets outside Turkey.
The Turkish manufacturing industry is now in a very strong position. Turkish companies have built up regular customer bases in so many countries that they are well protected from downturns. While some markets in the Middle East are having serious problems, neighboring Iran is no longer subject to sanctions, and that must surely be a great opportunity for trade between the two countries.
About Busworld Turkey and HKF Fairs:
The first Busworld exhibition was organized in Kortrijk, Belgium in 1971 and has achieved an international recognition by the bus and coach industry as being the oldest and most respected trade show in the industry. The experienced Busworld team started organizing Busworld Turkey in 2004, together with the Turkish trade fair organizer HKF Trade Fairs, a splendid combination resulting in a growing international B2B exhibition for bus and coach. On top of this, Busworld Turkey holds the internationally accepted benchmark for quality in trade fairs and exhibitions; it has an UFI Approved Event Certificate.