Automechanika Frankfurt – (REIFEN) 2018 prepare to launch next September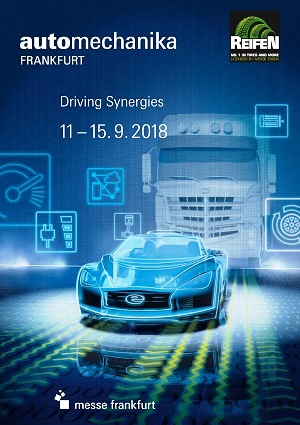 Automechanika Frankfurt 2018 prepare to launch next September
in cooperation with (REIFEN)
The final preparations began in Germany at (Messe Frankfurt) to host the 25th Edition –of the world's largest and most prestigious Automechanics series (Automechanika Frankfurt) from September 11th to 15th, 2018, having exceeded all the expectations of the last organized Edition In September (2016) as it comes every two years since the beginning of its first Edition in 1971. This has confirmed the world's place at the world level and the diversity of visitors from worldwide countries… The last edition witnessed 305.000 square meters area, as it was extended on 12 indoor halls, hosted 4660 companies from 74 countries around the world, while visited by more than 136,000 visitors from 180 countries around the world.
Mr. Michael Johannes, head of the sector of the Automechanics exhibition at (Messe Frankfurt) noted that Automechanika exhibitions have reached  the 17th series of exhibitions in the world, which is organized in 15 countries Frankfurt ( Germany)-Buenos Aires (Argentina)-Dubai (United Arab Emirates)-Istanbul (Turkey)-Johannesburg (South Africa)-Kuala Lumpur (Malaysia – Madrid (Spain) – Mexico City (MEX) – New Delhi (India) – Shanghai (China) – Moscow (Russia) – Jeddah (Saudi Arabia) – Riyadh) – Atlanta (United States of America) – Chicago (United States of America) – Birmingham (UK) – Ho Chi Minh (Vietnam)…
Johannes hopes that the trend that has emerged in the previous exhibition will continue in relation to the interest in the green industry and the service of electric cars, besides paying attention to the sector of the automotive alterations, as well as to the car services Classics that became a symbol of industrial history in the car industry.
On the other hand, Messe Frankfurt, will welcome the new hall, #12, which become ready to The beginning of the World largest Expo of tires and technology), recycling and maintenance of its industries (Reifen)…. after the joint protocol of cooperation that was made between both organizers.