MARCOPOLO DEVELOPS A PROTECTION KIT TO ENSURE EVEN MORE SAFETY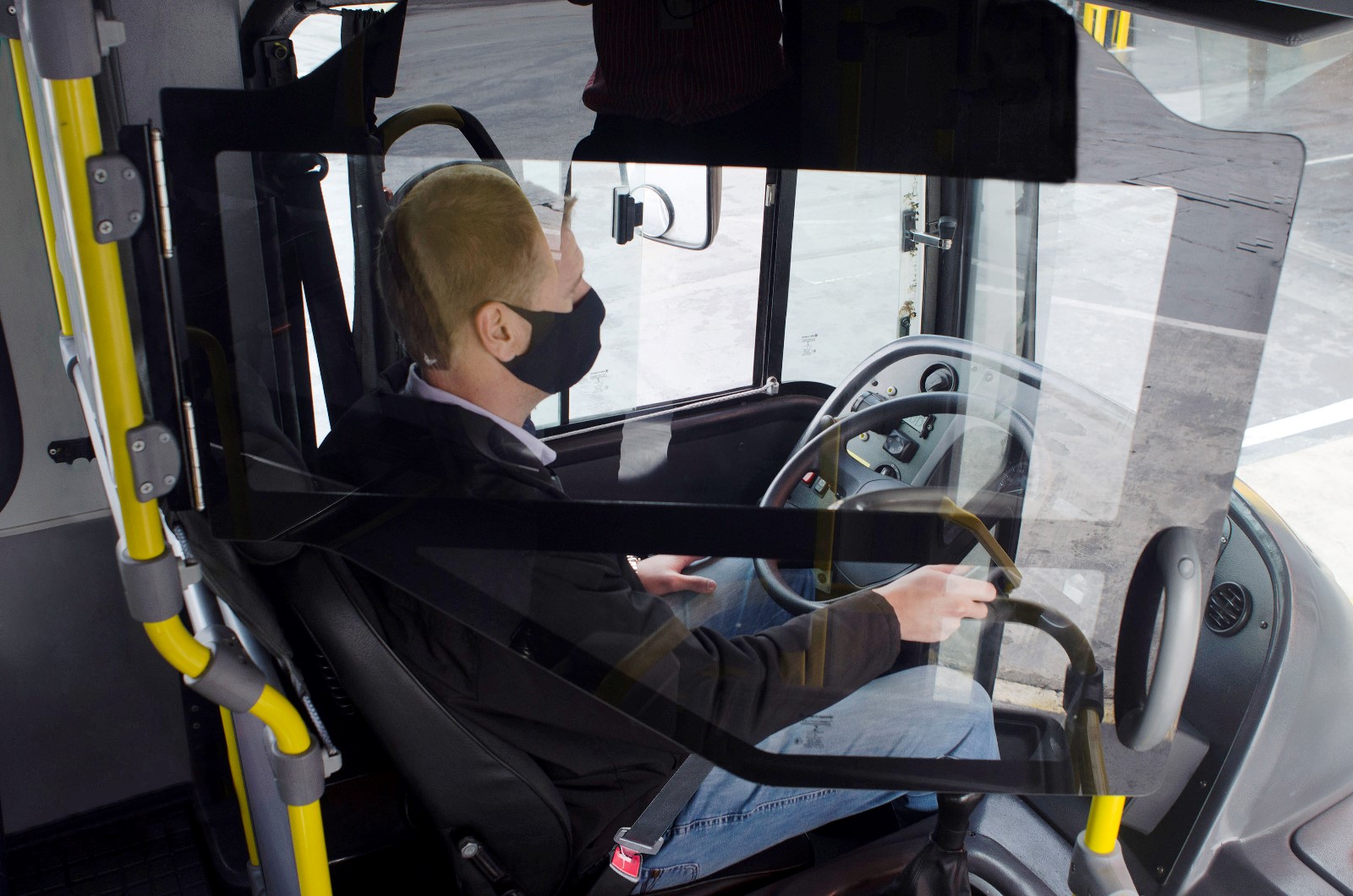 MARCOPOLO DEVELOPS A PROTECTION KIT TO ENSURE EVEN MORE SAFETY
IN COLLECTIVE TRANSPORT DURING THE COVID-19 PANDEMIC
Manufacturer presents a partition system that works as a protective barrier for drivers and fare collectors
In yet another action to ensure maximum safety in public urban transport and prevent the advance of the Covid-19 pandemic, Marcopolo has developed a partition system that works as a protective barrier for drivers and fare collectors. Visate, the urban transport operator in Caxias do Sul, has been testing the system in its fleet the last few days.
The new protection system will be commercialized as a kit. To enable and speed up its installation on buses in circulation throughout Brazil, Marcopolo will supply the product to vehicle operators and owners through its branches and network of national representatives.
According to João Gabriel Magnabosco, Marcopolo Engineering manager, it is a physical barrier system for the driver and fare collector that reduces the possibility of contagion of the disease because it prevents transmission and contact with the droplets expelled during talking, coughing or sneezing. The panels surround the work area of these professionals, exposed daily to a large circulation of people, also ensuring protection for passengers.
"The system was designed for urban buses with a front engine, the vast majority of the circulating fleet in the country, such as the Torino, the model most produced by Marcopolo. But, as it is a flexible and modular solution, it can be adapted and installed in different bodies, even from previous generations. The fare collector's part is adaptable for any bus and the driver's part depends on a specific project for each model", the executive highlights.
The choice of glass as the material to be used was due to its smooth surface and easy cleaning and sanitization. "Materials such as acrylic suffer accelerated degradation when in contact with alcohol, which is one of the products normally used in sanitization," he stresses.
The system development project was carried out in partnership with Visate and aimed to design a system that would offer drivers and fare collectors protection in addition to PPE, such as the individual masks recommended by health and government bodies.
 Health, safety and well-being in transport
One of the biggest challenges in combating the spread of Covid-19 is to ensure, in all cities in the country, the mobility of professionals who work daily in essential activities and need to get around. Public transport has a fundamental role and the development of solutions to ensure protection, health, safety and tranquility for those who need to use the services is a priority for Marcopolo.
The new system is yet another solution that Marcopolo has been presenting to the market in recent weeks. At the end of April, the manufacturer had already presented FIP Onboard, the first Onboard Biosafety solution that promotes disinfection on buses and prevents the spread of viruses, ensuring protection for up to three days.