Outlook on the bus and coach industry post-corona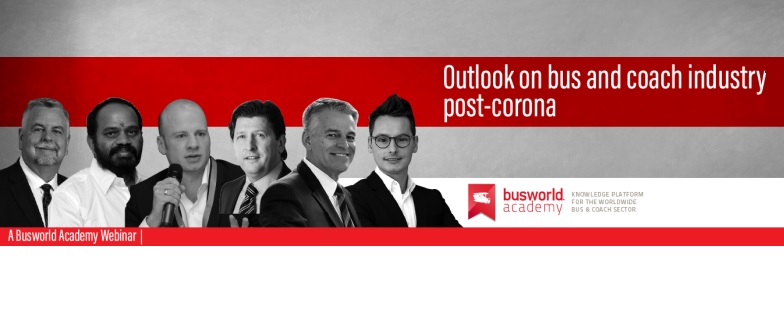 Outlook on the bus and coach industry post-corona
 The fourth global Busworld Academy webinar focused on the expectations about the POST-corona period for bus and coach operations.
We see that the demand for urban and intercity bus services increases once (semi-) lockdown measures are being reduced.
But how long will it take to reach the PRE-corona passenger level?
Which precautions (hygiene, technical adaptations,…) inside the vehicles can have a positive influence?
Which challenges will the POST-corona period bring for all the stakeholders?
6 executive speakers had given their POST-corona outlook, each representing a branch of the bus and coach industry.
This webinar, had presented expert views on how the bus and coach industry will look like tomorrow and use this information to prepare your business on what's coming!
Speakers
Mr. Dan Pettersson, Senior Vice President Business Unit Chassis @ Volvo, and responsible for Volvo Buses International, Sweden
Mr. Marc Hofmann, CEO @ CheckMyBus, Germany – bus search engine platform
Mr. D.R. Dharmaraj, Joint Secretary @ BOCI, India – Bus and Car Operators Confederation of India
Mr. Donald DeVivo – President @ DATTCO Inc. & Chairman @ ABA, USA – coach operator
Mr. Tobias Stüber – CEO @ Flibco.com, Luxembourg – airport shuttle bus service
Mr. Pierre-Paul Pharand – CEO @ KEOLIS, Canada – bus operator
To watch the full webinar, you may visit this link: