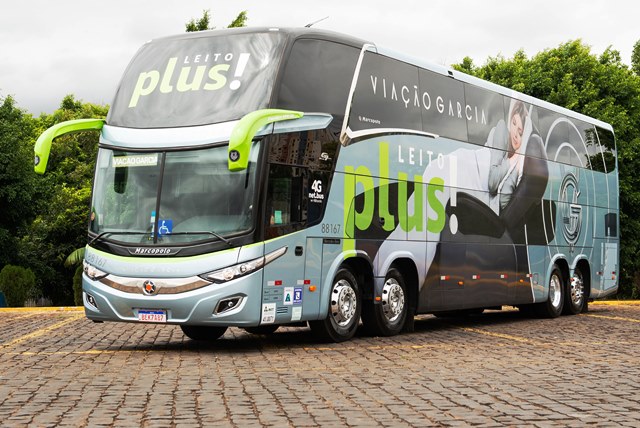 MARCOPOLO DEVELOPS A NEW INTERNAL AIR RENEWAL SYSTEM
Paradiso New G7 1800 Double Decker supplied to Viação Garcia is the first to be equipped with this technology
Caxias do Sul (Rio Grande do Sul) – December 15, 2020 – Marcopolo and Viação Garcia announce the supply of the first Paradiso New G7 1800 Double Decker equipped with BFA (Breathing Fresh Air), a new air renewal system whose renewal rate exceeds 20 times per hour and also allows air conditioning.
The new system, patented by the bus body builder and exclusive to the Double Decker models, also has new air inlets – two located near the curve of the roof, on the right and left sides, and another one next to the luggage compartment hatch on the left side of the lower floor.
"BFA was developed to ensure that the air coming from the external environment is filtered and air-conditioned before reaching the passengers, thus bringing greater comfort and safety for trips, it is important to highlight that the traditional air renewal system of Marcopolo´s vehicles already meet the rates indicated in each market where the brand delivers their bus bodies, but the traditional model does not provide air conditioning and air filtration before it reaching the passengers", Jean Carlo Giacomel Casado explains, coordinator of Product Engineering at Marcopolo. He adds that the Paradiso New G7 1800 DD models present an air renewal rate of up to 331 l/s (liters per second), a value higher than those established by ABNT for environments where people circulate (for example, shopping malls, grocery stores, airports). 
BFA is yet another solution that is part of the BioSafe platform that encompasses biosafety innovations to ensure more safety, well-being and health in public transport.