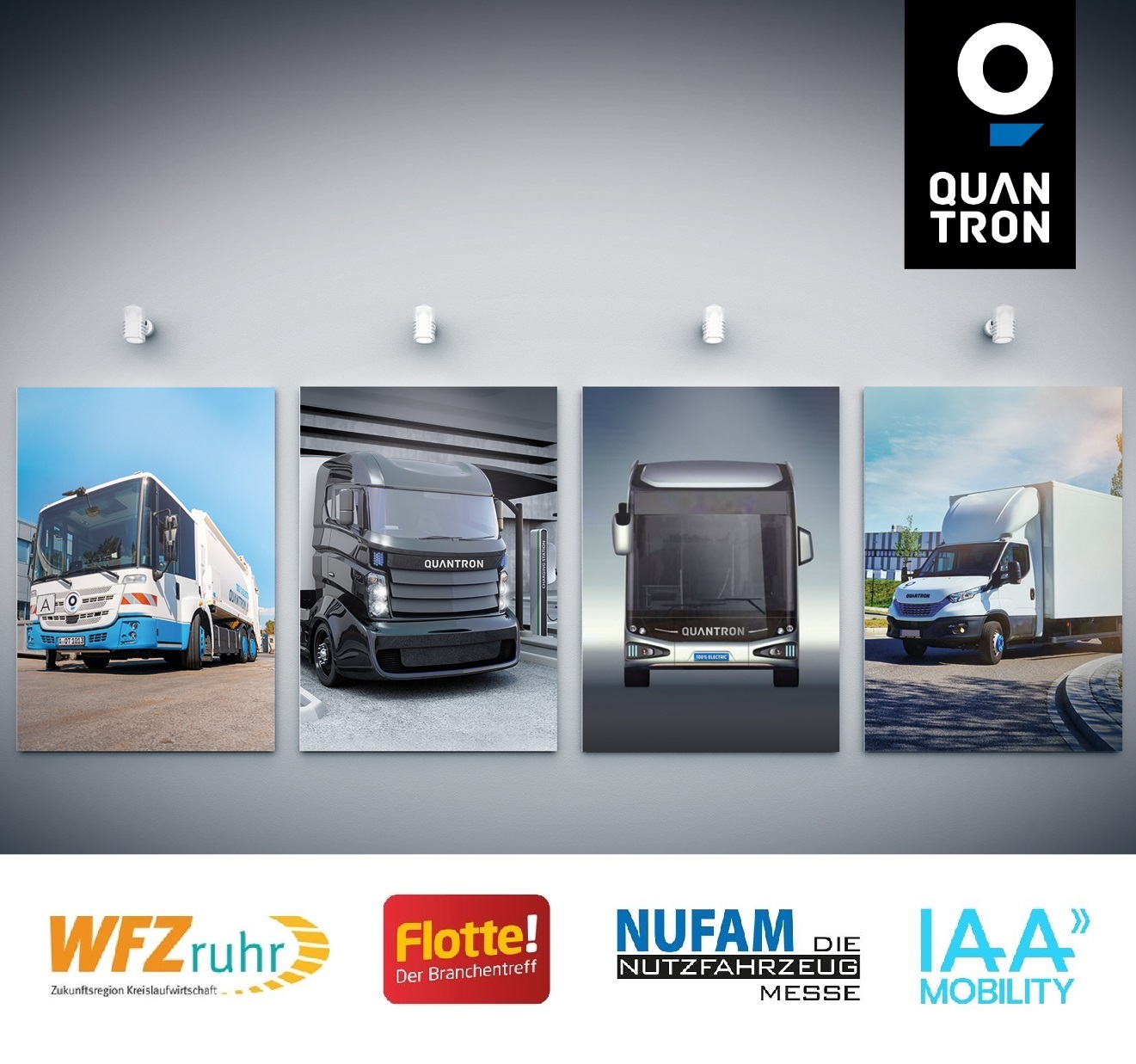 QUANTRON presents its broad portfolio of zero-emission commercial vehicles at four trade fairs
Presence at the German trade fairs "NUFAM" (commercial vehicles), "Flotte! Der Branchentreff" (vehicle fleets), "IAA Mobility" (international Automobility) and "Tag der Entsorgungslogistik" (disposal logistics)
The e-mobility specialist Quantron AG will be represented at three trade fairs for the commercial vehicle industry in September: "Tag der Entsorgungslogistik" on 2 and 3 September, "IAA Mobility" from 7 to 12 September, "Flotte! Der Branchentreff" on 15 and 16 September and "NUFAM" from 30 September to 3 October. At a press conference at the commercial vehicle trade fair NUFAM, QUANTRON will present a new product, the hydrogen-powered Q-Light FCEV.
On 30 September, Quantron AG will present the Q-Light FCEV at the NUFAM in Karlsruhe. Hydrogen as an alternative drive is the future of electromobility, especially for long distances. As a hydrogen fuel cell transporter in the 3.49 to 4.2 tonne range, QUANTRON's Q-Light FCEV is unique in Europe. The vehicle shines with numerous body variants and can thus be used in diverse areas such as logistics or transport. The Q-Light FCEV will also be presented at the IAA Mobility at the Elring Klinger AG stand together with QUANTRON partner AE Driven Solutions GmbH.
The hydrogen expert H2-Go GmbH, a subsidiary of Hydrogentle GmbH, will also be represented at Quantron AG's NUFAM stand. In a joint cooperation, the two companies offer a wide range of services and products on the subject of hydrogen-powered commercial vehicles.
At all four trade fairs, Quantron AG will provide a comprehensive insight into its portfolio of environmentally friendly vehicles from 3.49 to 44 tonnes. A special highlight is the versatile electric transporter Q-Light BEV (3.49-7.2 tonnes; also available with hybrid drive) based on the IVECO Daily. Thanks to its variable body options, the vehicle can be used for any transport task in everyday city traffic. IKEA is already convinced of the emission-free vehicle and has been using the QUANTRON e-transporter in Austria for months to deliver its products in an environmentally friendly way. At the IAA in Munich, visitors can take a test drive and see the low-noise and emission-free vehicle for themselves.
In the field of waste disposal logistics, QUANTRON will be exhibiting the all-electric Q Econic waste disposal vehicle, which has convinced both local residents and waste collectors with its emission-free and low-noise operation during test runs lasting several weeks throughout Germany.
As a system provider, Quantron AG also offers numerous services such as the creation of individual overall concepts including the appropriate charging infrastructure as well as rental, financing and leasing offers. The experts from QUANTRON will also be available on site at all events to answer questions about financial support for switching to alternative drives. Since the end of July, the Federal Ministry of Transport and Infrastructure has been supporting the purchase of new electric vehicles and the conversion of used and existing vehicles with 80 % of the additional costs compared to diesel.