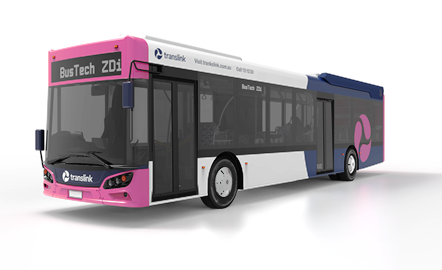 Australia: Keolis to roll out the largest fleet of electric buses in Queensland
• On 24 August 2021, Keolis Downer – Keolis' subsidiary in Australia – secured an agreement with Transport and Main Roads (TMR) – through TransLink, the division of TMR with statewide responsibility for public transport in Queensland – to operate electric buses in its current contract based in northern Brisbane.
• By 2023, Keolis will roll out 16 electric vehicles – the largest fleet of electric vehicles in Queensland – while creating the first fully electric depot powered using renewable energies. This initiative is in line with Queensland's commitment to renew its fleet of vehicles by replacing them with buses powered by alternative energies from 2025.
• The implementation of electric buses to this contract continues Keolis' dynamic development in Australia where the Group was recently awarded a contract in the Sydney region to operate more than 400 buses, a quarter of which will be converted to e-buses by 2030.
Introducing an electric bus fleet and depot
 Queensland's Transport and Main Roads (TransLink Division) announced a partnership with Keolis Downer to roll out the state's first 100 per cent electric bus depot, using renewable energy.
Structured around nine routes with 16 Zero Emission Buses, this bus network will serve some 60,000 residents, covering the area surrounding Brisbane's Upper Bayside and the North Lakes suburbs, as well as other areas. Currently, diesel-powered buses operate on the network.
Under the terms of this contract, Keolis will roll out a fleet of 16 electric buses purchased from Australian bus manufacturer BusTech, making it the largest fleet of electric buses in the whole of Queensland.
Introducing these 16 vehicles as replacements for the 16 existing diesel-powered ones is expected to avoid nearly 14,000 tons of carbon emissions by the end of the contract. This will help enhance quality-of-life for people living locally, reducing both noise and atmospheric pollution.
In a first for the region, the North Lakes bus depot will be entirely converted to an electric charging facility where the future bus fleet will be maintained and charged.
Including purchase of the 16 vehicles and the work needed to adapt the depot, the project will cost a total of €9.7 million (Aus$15.6 million) and will be jointly funded by the Queensland State Government and Keolis Downer.
The project reflects Queensland's commitment to promoting the energy transition across the state, and its target of producing 50% of its energy using renewables sources by 2030.