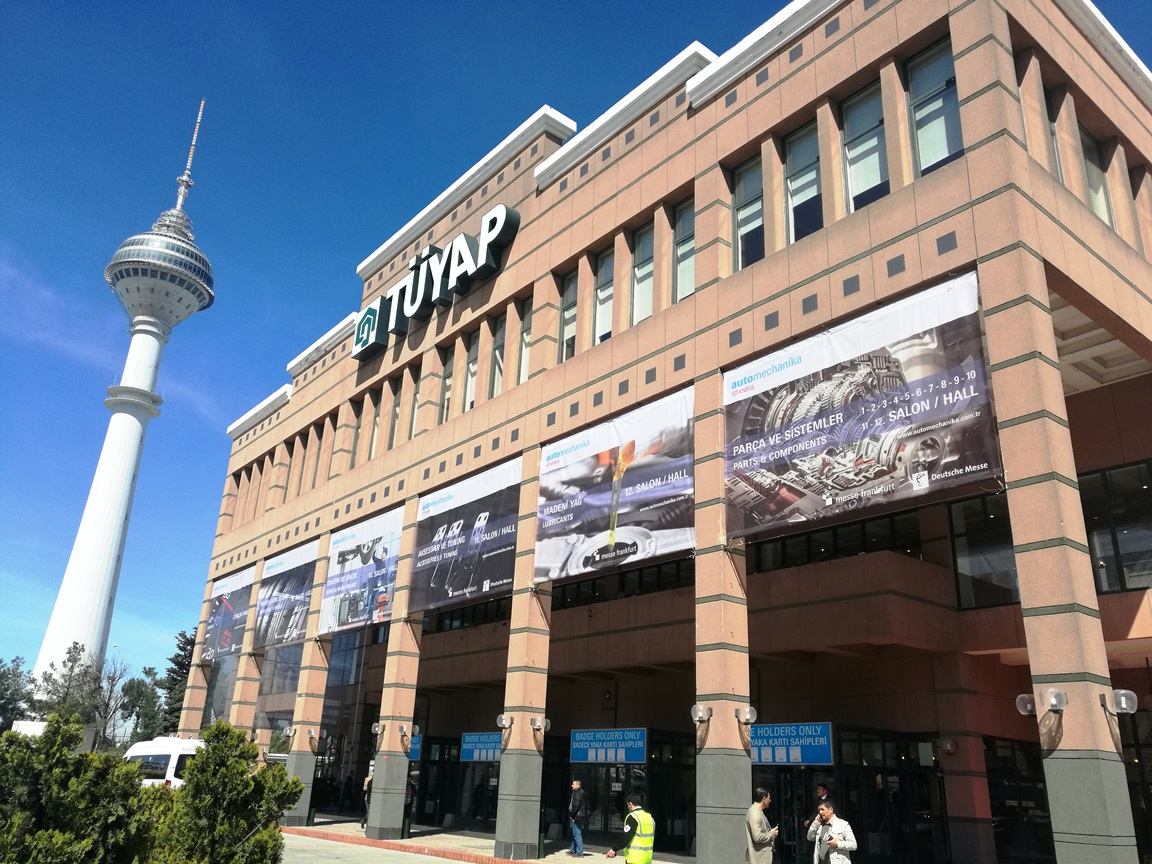 Automechanika Istanbul is set to return with an improved new event concept on November 18th, 2021
Turkey's Leading International Trade Fair for the Automotive Industry, Automechanika Istanbul Plus will be held at Istanbul TUYAP Fair and Congress Center on November 18-21, 2021, after a break of almost 2 years because of the pandemic.
As presented on previous editions, national and international automotive industry professionals are expected with a high quality presence onsite and also on the new digital platform "PLUS", the new feature of the Automechanika brand. Top names, brands and associations from Asia and Europe are getting together at Automechanika Istanbul Plus co-organized by Messe Frankfurt Istanbul and Hannover Fairs Turkey. Parts and systems, electronic systems and connectivity, accessories and customization, fleet and workshop management, fault detection and repair, vehicle wash and care, alternative driving and fuel systems, tires and wheels, bodywork and paint, autonomous driving and mobility services are among the displayed product groups with a significant share in Turkey's export in the automotive industry.
PLUS – the digital concept of Automechanika brand – is set to be integrated into Automechanika Istanbul starting November, 2021.
After months of research and analysis on digital events and business models worldwide during the pandemic, Automechanika Istanbul Plus is designed with a specific target to maximize the efficiency of the event for automotive industry professionals. Automechanika Istanbul will reach a wider range of exhibitors and visitors from all over the world with its digital features.
More than 2 years without an event due to the ongoing pandemic, the importance of November 2021 edition is mainly on the return of the event itself for the automotive industry, where Automechanika Istanbul Plus will keep on offering digital opportunities and improved experiences for its participants once the event is held on its regular dates over the following editions.
Automechanika Istanbul Plus will bring automotive professionals together at the venue and on a digital platform at the same time
Automechanika Istanbul Plus, which will be held physically at Istanbul TUYAP Fair and Congress Center between 18-21 November, is set to determine the trends of the automotive industry with a digital platform specially developed for professionals who won't be able to travel for the fair. Exhibitors with a booth at the venue will also be able to display their products with their online profiles, attend 1:1 meetings with their buyers and exchange business cards on the digital platform.
Automechanika Istanbul Plus digital platform is designed to bring exhibitors, buyers and automotive industry professionals together under a single roof to hold efficient business interactions. With this hybrid event concept, all participants will be able to access all event content, exhibitors and products through their desktop or mobile devices, regardless of their location.
Automechanika Academy will feature the latest trends and innovations in the automotive industry with esteemed speakers on the program!
As in previous years, Automechanika Academy will be accessible on the fairground and the digital platform for automotive industry professionals with a program of conferences, seminars, presentations, workshops and panel events where developments in the automotive industry and future mobility technologies will be discussed. Academicians and experts from associations will share their insights on trends, innovations and exchange thoughts with the audience in order to keep up with the developments in the automotive industry.
The power of women in the automotive industry will be the highlight of Automechanika Istanbul Plus
Automechanika Academy will also feature a panel discussion with the topic of Women Talk, which focuses on women's employment in the automotive industry. Projects of respected companies for women's employment in the automotive sector will be presented and stories of successful women will be shared during the program.
Visitor registrations will start in August!
All professionals who want to visit Automechanika Istanbul Plus will be able to register on the event website as of this August. Registered visitors will be able to enter the fairground and the digital platform of Automechanika Istanbul Plus with a single online registration.
Our Partners & Contributors
AASA – Automotive Aftersales Supplies Association, APRA – Automotive Parts Remanufacturers Association, AKUDER – Automotive Battery and Recycles Association, ASA – Automotive Service Equipment Manufacturers and Importers Association (Germany), AUS Turkey – Intelligent Transport Systems Association, EGEA – European Garage Equipment Association (Belgium), FIGIEFA – Federation of Automotive Aftermarket Distributors, HDMA – Heavy Duty Manufacturers Association, Turkish Composites Manufacturers Association, MEMA – Motor Equipment Manufacturers Association, OAC – Overseas Automotive Council, OIB – Automotive Industry Exporters' Association, OSS – Turkish Automotive Aftermarket Association, OTAM – Automotive Technologies Research and Development Center, TAYSAD – Automotive Suppliers Association of Turkey, TEHAD – Turkish Electrical and Hybrid Vehicle Association, Italian Chamber of Commerce in Turkey, ITO – Istanbul Chamber of Commerce, TOBFED – Turkish Car Care Associations Federation, ZDK – German Federation for Motor Trades and Repairs, KOSGEB – Small and Medium Enterprises Development Organization of Turkey.