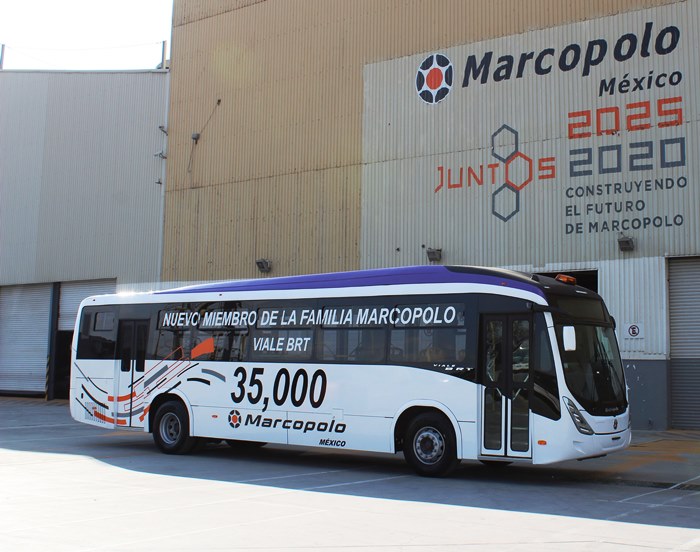 Marcopolo Mexico celebrates the production of 35,000 vehicles and launches Viale BRT
 Marcopolo Mexico produced, at the end of October, its 35,000th vehicle at its factory in Garcia, in the city of Monterrey, in the state of Nuevo Leon. The commemorative unit marks the launch of the urban model Viale BRT in the Mexican market.
"This achievement is, without a doubt, the result of 22 years of effort, dedication and commitment of all the collaborators that make up this great team, and of the trust and partnership we share with our customers, because without them we would not have reached this milestone", highlighted José Luís Goes, director of Marcopolo Mexico.
Marcopolo's presence in Mexico began in the early 1990s and, since 1999, it has had its own factory to produce bus bodies. The Garcia unit applies state-of-the-art technology to manufacture and assemble bodies, with ergonomics, efficiency and productivity, in addition to having the largest portfolio of products on the market, from micro buses to Double Decker road buses.
Between January and September this year, Marcopolo Mexico produced 696 units, 1.6% above the 685 units manufactured in the same period last year. In the third quarter, the unit achieved a significant increase of 61.4% in sales, with 276 units compared to the 171 units in the third quarter of 2020. This performance demonstrates the start of the Mexican bus market´s recovery, which is still highly concentrated in the urban and charter (employee transport) segment.
The new Viale BRT has a bold urban configuration that meets all the requirements of the country's boarding systems, in addition to meeting the regulations of the public transport segment. The model offers more comfort, ergonomics and safety and its conception is a robust vehicle with an excellent cost/benefit ratio. Other important features are product sustainability, practicality and onboard technology.