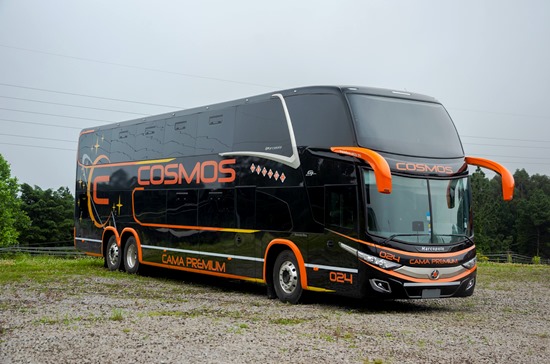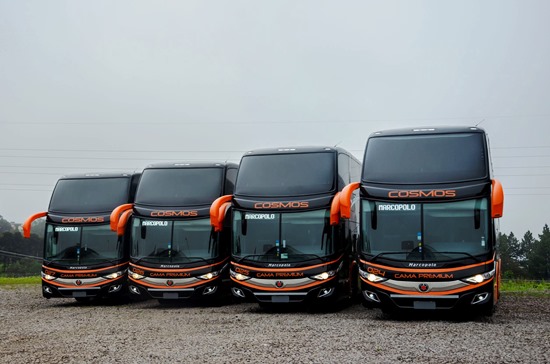 MARCOPOLO AND MERCEDES-BENZ EXPAND THEIR PRESENCE IN BOLIVIA BY SUPPLYING PARADISO NEW G7 1800 DD COACHES
 Marcopolo and Mercedes-Benz will supply four new Paradiso New G7 1800 Double Decker coaches to Bolivian company Flota Cosmos. The sale strengthens the presence of the two brands in that country, whose transport operators have increasingly invested in raising the standards of comfort and safety with the most recent technologies available.
"The Bolivian market has been gaining greater projection, especially in the coach segment, with a growing demand for more sophisticated and modern vehicles. The Paradiso New G7 DD, with O500 RSD 2442/30 chassis are ideal for tourism and medium and long-distance travel", highlights Uiliam Kliper Rossetti – consultant for Commercial Operations in the External Market and responsible for serving the Bolivian market.
According to Uiliam, Marcopolo is the preferred brand of the biggest Bolivian companies, with the Paradiso 1800 DD being the most supplied product. "This year, we have already exported another 10 units to different customers", the executive comments.
With a total length of 14.4 meters and a 6×2 (fixed third axle configuration), the new buses are equipped with a Mercedes-Benz GO 210 manual transmission, a Voith 115 retarder and other active and passive safety electronics (ASR; Hill Holder; EBS; ESP; LDWS, and TPMS).
The new Paradiso New G7 1800 DD has 43 sleeper seats, air conditioning and heating system, monitoring cameras, reverse camera and monitor, with parking sensors, six fixed monitors in the upper and lower passenger area and aluminum wheels.
Flota Cosmos has a 100% Marcopolo fleet and has been a customer for over 10 years. The service in Bolivia is provided by representatives Ovando S.A. (Mercedes-Benz do Brasil) and Orion S.R.L., a Bolivian company responsible for the representation, distribution and technical service for Marcopolo buses, with headquarters in the city of Santa Cruz de la Sierra.