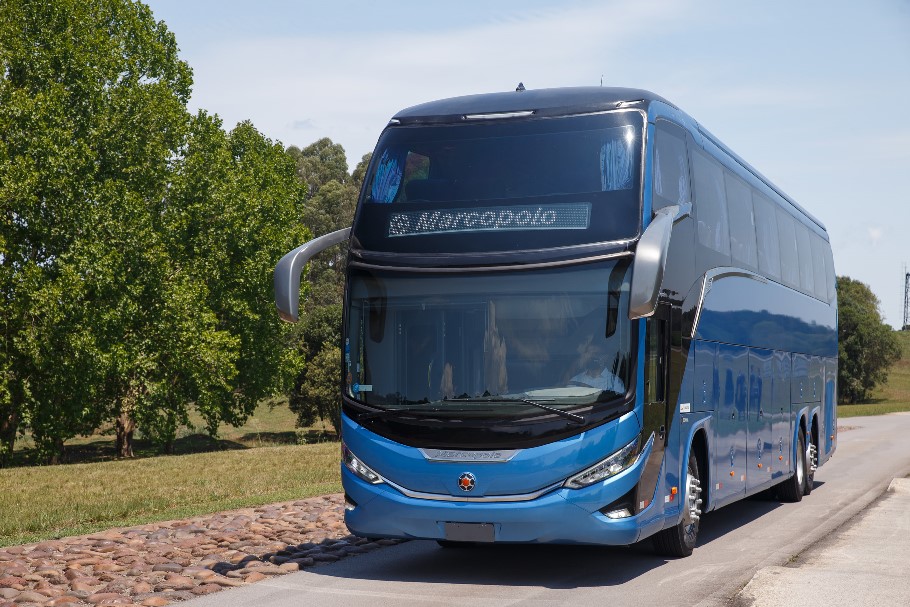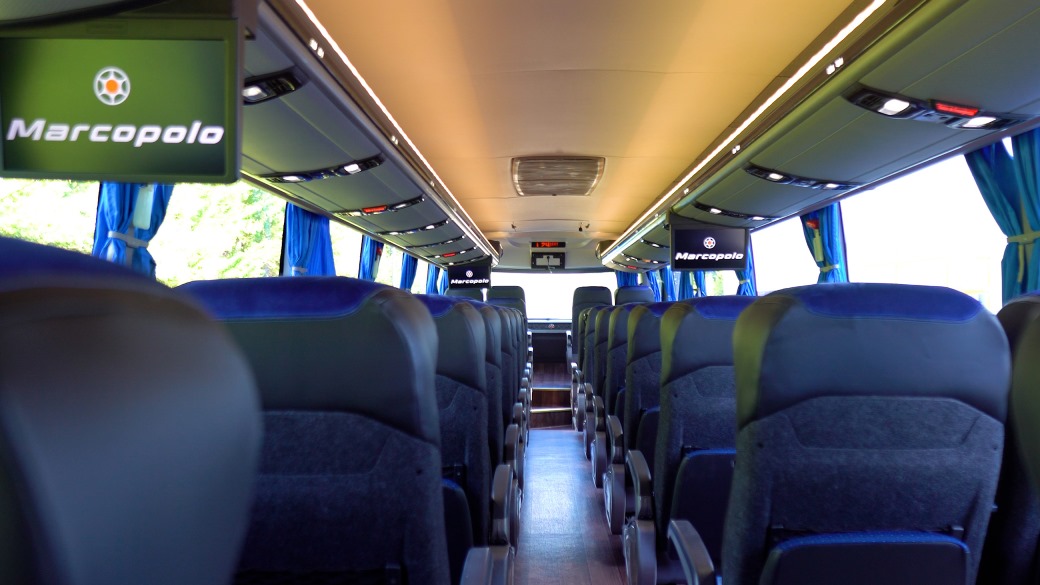 MARCOPOLO PRESENTS ITS NEW COACH PARADISO G8 1600 LD
 Model is in the approval phase and focuses on comfort and safety for the driver and co-driver
Caxias do Sul (Rio Grande do Sul) – january 27, 2022 – Part of Generation 8, a line of coaches launched in the second half of last year, the Paradiso G8 1600 LD model is in the approval phase to be introduced to the market in the second quarter.
The model, which can be produced on different 6×2 chassis brands, maintains the characteristics of safety, comfort and luggage capacity, combined with innovation and technology to exceed expectations and improve the experience of passengers and drivers, providing the operator with operational performance in medium and long distance lines, in addition to the leisure and shopping tourism segment.
"We developed all Generation 8 models with a focus on excellence and maximum efficiency of the operation so that our customers achieve even better business results", highlights Ricardo Portolan, Director of Domestic Market Commercial Operations and Marketing at Marcopolo.
The model incorporates all the technologies and design with Marcopolo DNA introduced in the other Generation 8 models. The front grill and bumper have greater volume, robustness, and the use of raw materials in the manufacture of the external finishes increase the durability of the components. Over 140 new attributes translate into positive impacts for drivers, passengers and operators; the unprecedented design with an aerodynamic coefficient of just 0.379; the optional Full LED lights, with efficiency up to 3.5 times greater than other models on the market, and its structure that increases passive safety for the driver.
The Paradiso G8 1600 LD also features Marcopolo Biosafe, a platform designed to make public transport safer against viral and bacterial contamination, combining solutions focused on biosafety. Optional items such as disinfection of the restroom and air conditioning through UV-C light, antimicrobial finishes, 1x1x1 layout and hand sanitizer dispensers are still available.
Focus on comfort and safety
One of the most important aspects when developing the new design was the attention devoted to safety and accessibility, both for drivers and passengers. The Low Drive version features a redesigned cab for the driver with a lower dashboard and a refrigerator on the left side and a USB port; greater visible area on the right side and a separation wall made of glass, improving visibility and drivability for the driver, which results in safety; larger cab door opening for more comfort and convenience and new upper cab dashboard.
Also in the new Paradiso G8 1600 LD, all the details were designed to optimize the passenger´s experience, facilitating access to the passenger area, delivering thermoacoustic comfort attributes, seats that focus on ergonomics, in addition to the biolight concept, which adjusts the interior light according to the time of day for visual comfort for the occupants.
Highlight
Driver's cab designed to enhance drivability and visibility, which translates into safety for drivers and passengers
Greater internal stair height and new hand grip for support represent greater safety and accessibility in the passenger area
Larger space between the seat and dashboard allows access to the cab through the service door
Larger driver cab opening;
Separation wall made of glass and new dashboard position provide better visibility for the driver and co-driver
Fridge next to the driver on the left side, with a USB port
New upper dashboard
Luggage compartment with covers that fully open