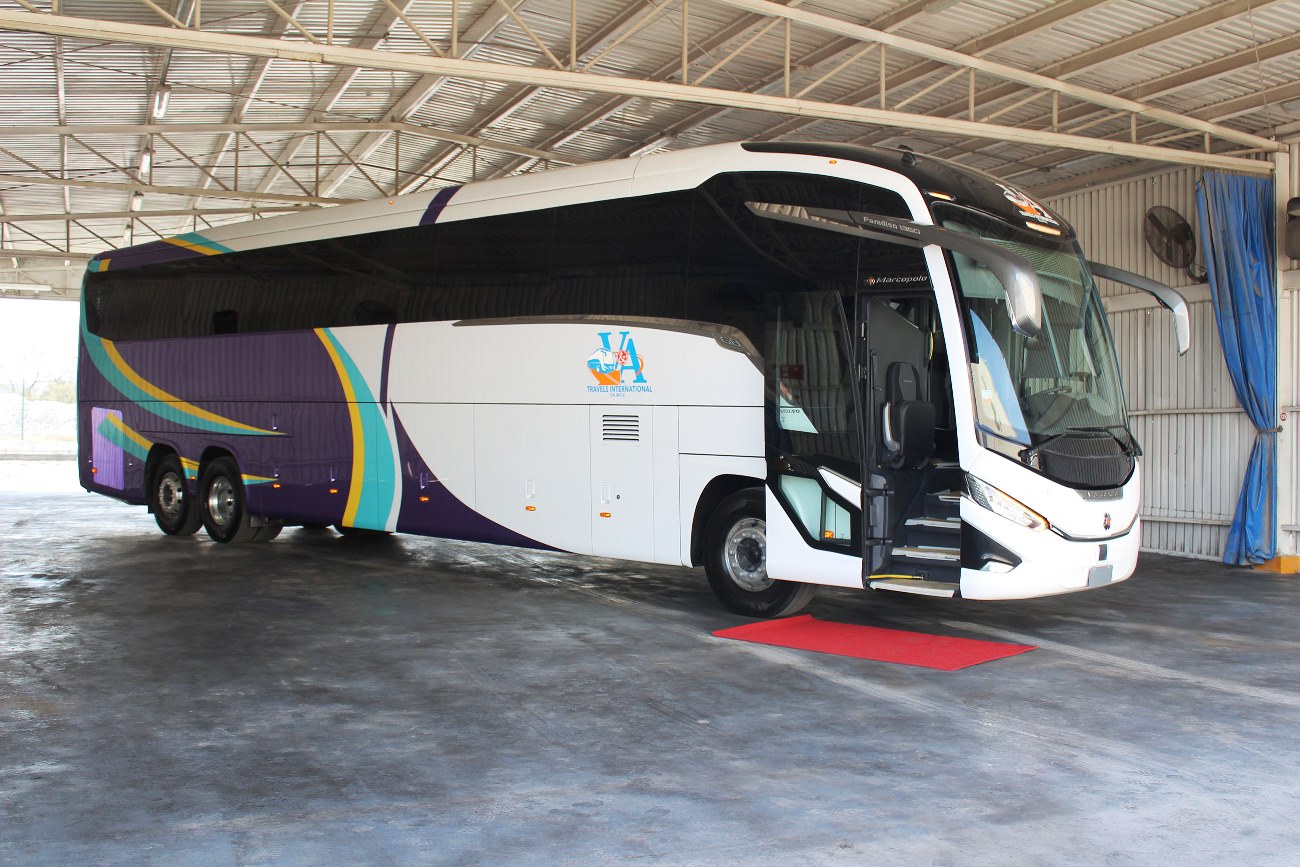 MARCOPOLO MEXICO STARTS THE PRODUCTION OF PARADISO GENERATION 8 COACHES
    Customer V&A Travels International receives the exclusive G8 1350 model
 Marcopolo Mexico becomes Marcopolo's second operation in the world to produce the brand's new Generation 8 coach models. At the end of January, the company's executives delivered the first vehicle to leave the line in the municipality of García to customer V&A Travels International, based in the city of Hermosillo, in Mexico.
Traditional partner of Marcopolo Mexico, V&A Travels will use the new vehicle on national and international lines in the region of Sonora, Baixo Mexico and in the states of California, Texas and Utah, in the United States. The operator transports people in the mining segment and is specialized in travel between the two countries.
"For us, it is very important to start producing a line as innovative as the Generation 8 internationally, especially in Mexico, a big market for Marcopolo. V&A Travels was the first customer to purchase a Generation 7 Paradiso 1350 bus, more than eight years ago, and is now renewing its fleet with a G8 with biosafety equipment", José Luís Goes highlights, director of Marcopolo Mexico.
V&A Travels´ Paradiso G8 1350 has VALEO CC 356 air conditioning with an integrated UVC (ultraviolet light disinfection) system, Full LED lights, electric external rear-view mirrors and a restroom in the back with an Eco Flush and UVC system for greater safety. With a length of 15 meters and a Volvo B13R 6×2 chassis, for greater comfort and convenience, it has 46 half-sleeper seats, with USB sockets and a cell phone holder, magazine and cup holders, complete dividing wall, curtains, electronic destination sign, overhead rack, setup for an audio and video system, with DVD and monitor, overhead luggage rack and five monitors in the passenger area.
Marcopolo Mexico started its activities in 1999, manufacturing bus bodies and spare parts. The company is one of the market leaders and has a unit in the municipality of García, in the state of Nuevo León. It also has a Parts Distribution Center in Toluca, State of Mexico. All production is destined for the Mexican market, for the Urban, Road and Tourism sectors.