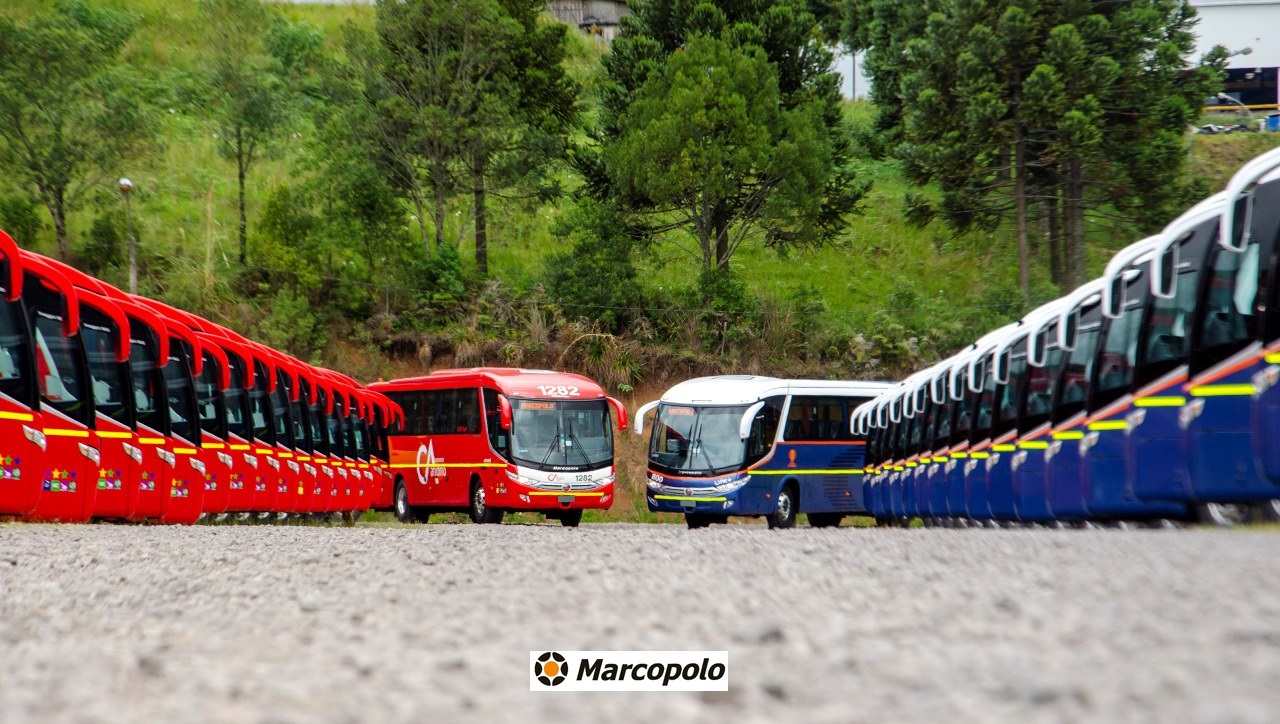 MARCOPOLO SUPPLIES 300 VEHICLES FOR THE MINING SEGMENT IN CHILE
Delivery of the first units to the operators Renta Bus (Link) and Buses JM has started
77 units of the unprecedented electrified Senior micro bus and 223 units of the Viaggio 900 will be supplied
 Marcopolo has signed an important contract to supply 300 vehicles for the charter service to transport employees of the company Codelco, the largest copper producer in the world. The operators Renta Bus (Link) and Buses JM contracted for the service acquired 300 buses and Marcopolo micro buses of the Viaggio 900 and Senior models, delivered
The new buses have already started to be delivered by Epysa, a Marcopolo representative in Chile and were destined for the El Teniente (city of Rancagua, O'Higgins region) and Andina (city of Los Andes, Valparaíso region) divisions of Codelco. Deliveries will be completed by the month of August.
"This new business demonstrates the strength of the Marcopolo brand in Chile and other important Latin American countries. Last year we participated in a bid by the company Mineradora Codelco, we won the preference of LINK and Buses JM operators and we will supply 80% of the total bid volume, including the unprecedented Senior model with electrified chassis", highlights André Vidal Armaganijan, director of ME International and Commercial Operations.
Of the 300 new vehicles, 77 are of the Senior Charter model – with electrified chassis from the company Reborn – of which 20 have already been delivered to Renta Bus (Link). The micro buses have external fiberglass side coverings, lower stainless steel structure to meet the needs of customers and further increase the standard of quality and resistance. With a capacity of 24 passengers seated in Executive 940 seats, they are equipped with a Valeo CC175 split air conditioning system with a rear condenser – an unprecedented development for the Senior line and made especially for Renta Bus (Link), a customer with a fleet made up of 95% Marcopolo models. The units also have curtains, electronic destination sign, luggage rack to store batteries, cup holders, luggage rack, heating and three-point seat belts.
223 Viaggio 900 buses
Of the 223 Viaggio 900 buses supplied, 146 will be delivered to Renta Bus (Link) and 77 to Buses JM. The 146 units for Renta Bus (Link) are equipped with 48 Executive 1060 seats, with a three-point belt for more safety.
Due to the characteristics of the roads they drive on, covered with snow for long periods during the year, the vehicles have a lower body structure developed in stainless steel, with very high resistance to corrosion, and lower body plating in stainless steel as well and the highest anti-corrosion protection ever applied by Marcopolo.
For greater comfort, the buses have a Valeo CC300S air conditioning system, with a condenser installed in the luggage rack, the installation of a pre-heater to heat water and pressurized air in the luggage racks to prevent dust from entering, as well as a panel that indicates when a seat belt is not fastened, a parking sensor, and LED backup lights.
The 77 Viaggio 900 buses delivered to the company Buses JM, a traditional Marcopolo customer and fleet composed of over 70% of models from the Brazilian brand, have a capacity for 40 seated passengers and have Executive 1060 seats, with three-point seat belts, Valeo CC356 air conditioning system, a panel that indicates when a seat belt is not fastened, a parking sensor and LED backup lights.