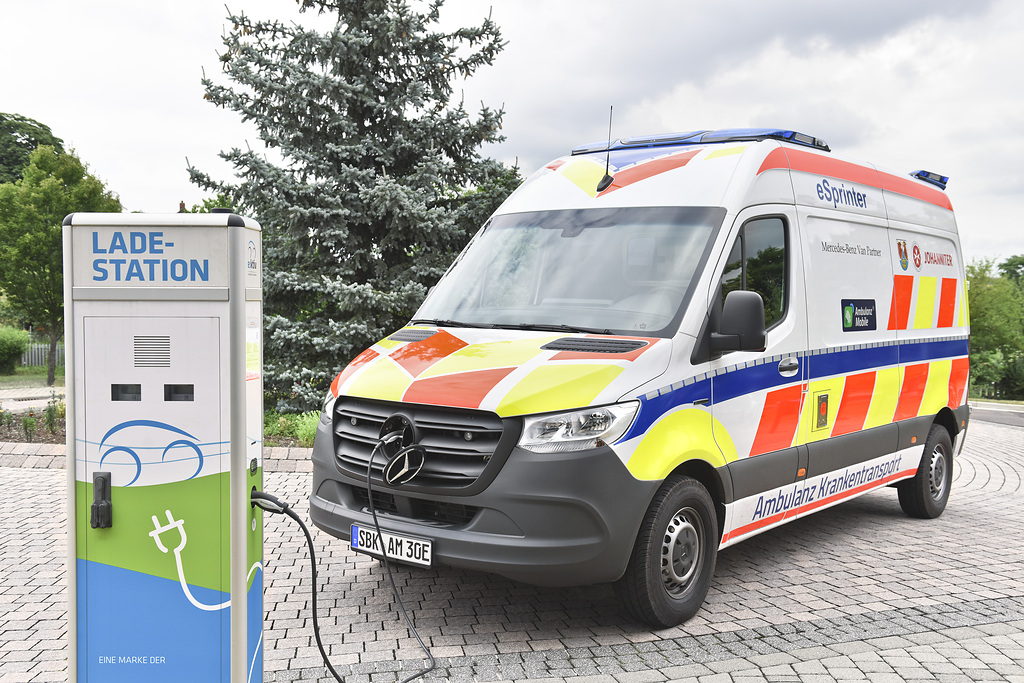 All-electric for the emergency services:
Mercedes-Benz at RETTmobil 2022
With a purely electric fleet, Mercedes-Benz presents a range of innovative car and van solutions in Hall 1. After a two-year break, the leading international trade fair for rescue operations and mobility – RETTmobil – is opening its doors again this year. From 11 to 13 May 2022 the latest innovations in rescue services will be presented at the exhibition grounds in Fulda. Alongside the exhibition there will be an extensive supporting programme with training courses, workshops and presentations, as well as the popular off-road course.
On a stand covering 340 square metres in Hall 1, Mercedes-Benz is once again a central part of the trade fair and, in collaboration with proven body manufacturers, will present a number of highlights. Plus, there is a really special feature in store this year: all the Mercedes-Benz vehicles being shown at the event are equipped with a battery-electric drive and prove that electromobile solutions are also becoming increasingly important for the rescue industry.
One highlight is the ambulance, which was developed together with the company Ambulanz Mobile and is based on the eSprinter. An eVito Tourer and the EQC 400 4MATIC (combined power consumption: 19.4‑21.9 kWh/100 km; combined CO2 emissions: 0 g/km)[1] equipped as emergency medical vehicles are also being exhibited. The innovative character is also reflected in the design of the exhibition stand, with a showcased stage which gives visitors a glimpse into the future of rescue work. As in previous years, the use of recyclable and lightweight materials puts the focus on sustainability through the reduction of weight and transportation volume as well as the prevention of unnecessary waste.