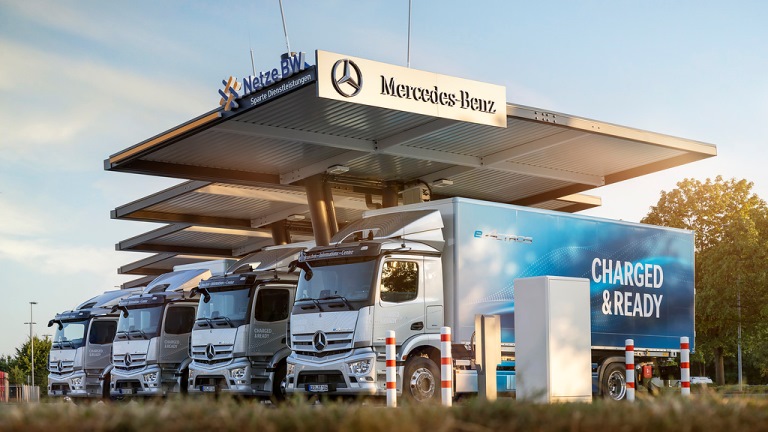 eTruck Charging Park launched in cooperation with services division of Netze BW
Charging stations and charging concepts from different manufacturers in day-to-day operation
Focus on consulting customers on charging infrastructure
Michael Scheib, Head of Product Management, Mercedes-Benz Trucks: "In the transformation to e-mobility, our goal is to offer our customers more than just an electric truck. We want to provide an integrated solution that includes consulting and charging infrastructure solutions from a single source. Our charging park for customers in Wörth is an integral part of this approach and shows customers, in a practical and tangible way, what charging infrastructure for their application can look like."
Axel Hausen, Head of major e-mobility & special projects at the services division of Netze BW: "Besides the technological development of all the necessary components, the development of the electric charging infrastructure is one of the factors crucial to the success of electric heavy-duty transport. Together with our parent company, EnBW, we are contributing a lot of expertise in charging infrastructure and the energy industry to the project."
Stuttgart / Wörth am Rhein – Today, Mercedes-Benz Trucks, together with its project partner, the services division of Netze BW, has opened a charging park for customers near the Application Information Center (BIC) in Wörth am Rhein. At the eTruck Charging Park, electric truck customers can now test charging stations and charging concepts from various manufacturers as well as work with on-site experts from Mercedes-Benz Trucks to develop tailor-made charging solutions for their respective applications. Charging technology is provided for testing and combined with a comprehensive range of consulting services to help customers move smoothly into e-mobility.
Michael Scheib, Head of Product Management, Mercedes-Benz Trucks: "In the transformation to e-mobility, our goal is to offer our customers more than just an electric truck. We want to provide an integrated solution that includes consulting and charging infrastructure solutions from a single source. Our charging park for customers in Wörth is an integral part of this approach and shows customers, in a practical and tangible way, what charging infrastructure for their application can look like."