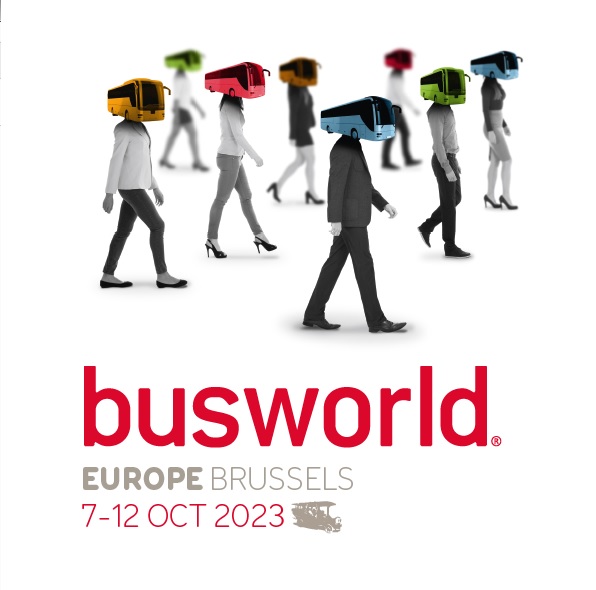 The 26th edition of Busworld Europe will be launched
from 7 to 12 October 2023 in Brussels
Busworld Europe, what's new?
The 26th edition of Busworld Europe will be organised from 7 to 12 October 2023 in Brussels, Belgium. After four years of absence, Busworld Europe is finally back, with some novelties to announce.
New exhibitors
Busworld is very excited to announce some brand new names in the vehicle manufacturer exhibitor list from different regions around the world: Ermisbus from Greece, "Geyushi Automotive Industry" from Egypt, Habas from Turkey, Ikarus from Hungary, JBM from India, Rampini from Italy, Quantron from Germany, Skoda from Czech Republic, Steyr Automotive from Austria, TAM from Slovenia and VagBus Bus from Romania.
On supplier side, there are even more new names. The full exhibitor list, which contains more than 400 exhibitors at this moment, can be consulted on the Busworld Europe website. Busworld welcomes its old and new exhibitors with open arms.
European ZEB Conference
For the first time, the European ZEB Conference will coincide with Busworld Europe, after a series of previous editions taking place in Paris (2021), Online (2020), in Cologne (2018) and in London (2016). The 5th edition of the European ZEB Conference is expecting 450 attendees from the zero emission bus and coach sector.
New in this edition will not only be the collaboration between Busworld Foundation and ZEB, but also the special attention for zero emission long distance coaches.
Busworld Digital Awards
Since digitalisation plays an increasingly significant role in and around buses and coaches, it made sense to create a new type of Busworld Awards, focusing on digital solutions. Next to the existing Vehicle Awards that will continue like before, a separate jury will judge the participations of the digital exhibitors. More detailed information will be shared soon.
Timing:
Due to popular demand, Busworld Europe starts on a Saturday instead of on a Friday and will continue until Thursday. For the members of the press, this means that the first press day is on Friday 6 October and the second press day on Saturday 7 October 2023.
For more info. :
https://www.busworldeurope.org/