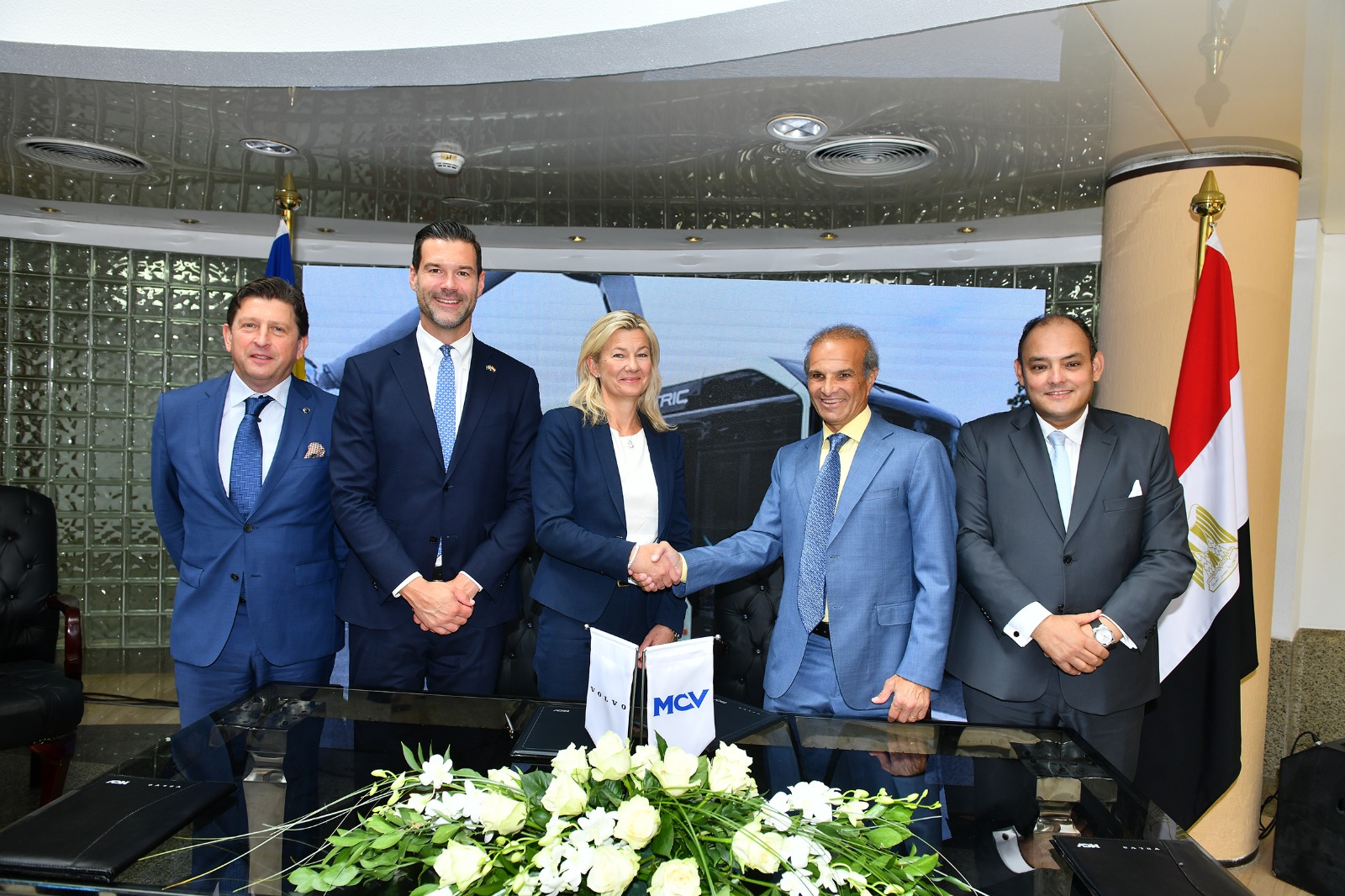 Volvo Buses signed a cooperation Project with MCV for production of electric buses for the European market
 Cairo 05.09.2023 – words by: Ashraf KARA,
After the decision of Volvo Buses to changes their business model in Europe by its decision to close its bodybuilding factory in Wroclaw, Poland in 2024….Cairo witnessed today a final signing on the "mega project" in buses business between VOLVO Buses and MCV for production of electric buses for the European market.
This signing ceremony and press conference had been organized at MCV (Manufacturing Commercial Vehicles) H.O. in Cairo in the attendance of H.E. Minister of Swedish trade and H.E. Egyptian Minister of Trade and industry and welcoming of Eng. Karim Ghabbour – MCV Chairman and Ms. Anna Westerberg – VOLVO buses President.
By this project, MCV will produce VOLVO bodies for its electric buses for the city- and intercity segments in European markets. Serial production is planned to start in the summer of 2024 and the first electric buses are expected to be delivered to customers in Europe in the beginning of 2025.
"We are very pleased that we have deepened our partnership with MCV since they have both the experience and the competence to produce bodies of the highest quality, meeting European standards and demands," says Anna Westerberg of VOLVO buses President. "By cooperating with an external bodybuilder, we will have greater flexibility to better meet market requirements and customer demands."
The intention is that MCV under license will produce bodies for the city buses Volvo 7900 Electric and the Volvo 7900 Electric Artic with both two and three axles. For the intercity segment Volvo Buses and MCV will work together to develop an electric offer. As earlier communicated, chassis production will remain at Volvo Buses' plants in Borås and Uddevalla, Sweden.
On the other hand, Karim Ghabbour added: "We look forward to expanding our partnership with Volvo Buses and work together to create an attractive offer for their customers, and We are looking forward for Manufacturing 300 – 400 units in this first year of production and have the willing to increase this target, also we will work on other models and we could start export for near markets in the near future".
"MCV is already one of Volvo Buses' key partners and has successfully delivered bodies to customers in the UK, such as Metroline who will use the electric buses in London's public transport system" Ghabbour added.
"Volvo Buses will be the point of contact for customers to ensure high standards in sustainability, safety and quality. We will continue to support customers with uptime services and spare parts, both for upcoming new offers and for customers that already have Volvo buses in their fleet today," says Dan Pettersson – vice president of Volvo buses.

Facts – About MCV:
MCV (Manufacturing Commercial Vehicles) was established in 1994. Its global headquarters is located in Cairo, Egypt, and it supplies commercial vehicles globally to markets including Europe, Asia, Australia, Africa and Latin America. MCV has a production capacity of 10,000 buses per year.