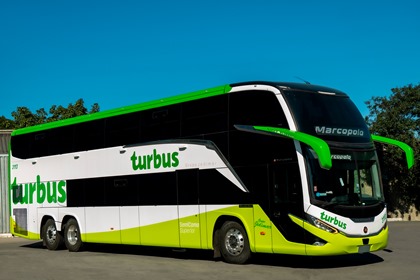 TURBUS, FROM CHILE, RENEWS FLEET WITH 58 MARCOPOLO COACHES PARADISO G8 1800 DOUBLE DECKER
This is one of the most significant DD purchases in a single lot for the foreign market and represents the acquisition of the first Generation 8 units
 Turbus, one of the most traditional transport operators in Chile with 75 years of experience, has acquired 58 new Marcopolo Generation 8 Paradiso 1800 Double Decker coaches. This is one of the largest DD sales in a single lot to the foreign market in the company's history.
"Turbus has been a partner for more than 50 years and is incorporating the first Generation 8 units into its fleet. The success achieved by the G8 models is truly remarkable and encourages us to continue working to always offer the very best to our customers, increasing safety, comfort and operational efficiency", emphasizes José Luiz Moraes Goes, Director of International and Commercial Operations at Marcopolo.
The 58 new Paradiso G8 1800 DD buses will be delivered between September and November of this year to be used on a service route between various cities in Chile. The vehicles, all 14 meters long, will have Mercedes-Benz 0 500 chassis (24 units) and Scania chassis (34 units) and will be produced in two configurations, with capacities for 32 and 60 passengers.
Fifteen units will have 12 sleeper seats on the lower floor and 20 sleeper seats on the upper floor, and 43 buses will have 12 sleeper seats on the lower floor and 48 semi sleeper seats on the upper floor, all with USB sockets and seat belt sensor. The vehicles will be equipped with an air conditioning system with ultraviolet light for disinfection and heating, streaming, Wi-Fi, individual monitors on the lower floor and three folding monitors on the upper floor (only the 43 vehicles with semi sleeper seats), chromotherapy lighting, external lighting below the windows, refrigerator, liquid heater and toilet.
Turbus has been a Marcopolo customer since the 1970s and in 1991 acquired the 60 thousandth unit from the Brazilian manufacturer. With 75 years of experience in passenger transport throughout Chile, the Chilean operator has a fleet of more than 800 vehicles and has more than 7 thousand employees, of which about 3 thousand are drivers, performed about 2,000 daily services and transports 23 million people to about 150 destinations every year.