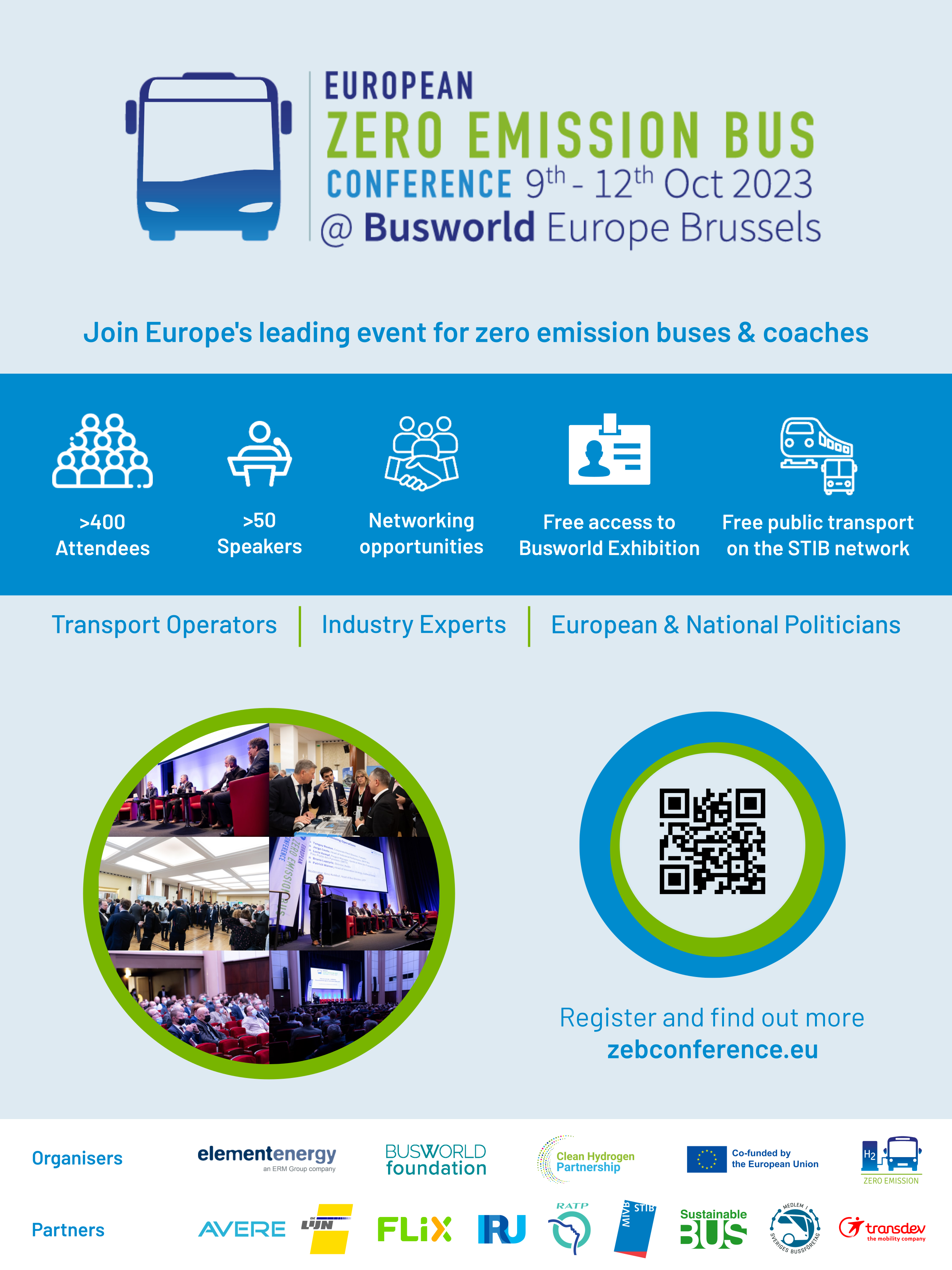 Brussels Prepare for ZEB conference in 2 weeks
The 2023 edition of the European Zero Emission Bus Conference will take place on 9-12 October at the Brussels Expo Centre and will be held alongside Busworld Europe.
The event will bring together transport operators, policy-makers, manufacturers and industry experts to discuss decarbonisation of the bus sector and aims to provide a complete overview of the considerations for deploying zero emission fleets at scale. Attendees can expect a content-driven conference, with insights from over 70 expert speakers, and networking opportunities with around 400 battery and fuel cell electric stakeholders. Free access to the Busworld exhibition, showcasing 500+ exhibitors including 80 of the biggest bus manufacturers, is also included. New to the 2023 edition of the ZEB Conference will be days dedicated to funding/financing options and the zero emission coach sector, addressing some of the most challenging barriers to ZEB deployment.
For more information, including the full agenda and how to register for ZEB 2023, visit https://zebconference.eu/
The 2023 edition of the European Zero Emission Bus Conference will take place on 9-12 October at the Brussels Expo Centre and will be held alongside Busworld Europe.
The event will bring together transport operators, policy-makers, manufacturers and industry experts to discuss decarbonisation of the bus sector and aims to provide a complete overview of the considerations for deploying zero emission fleets at scale. Attendees can expect a content-driven conference, with insights from over 70 expert speakers, and networking opportunities with around 400 battery and fuel cell electric stakeholders. Free access to the Busworld exhibition, showcasing 500+ exhibitors including 80 of the biggest bus manufacturers, is also included. New to the 2023 edition of the ZEB Conference will be days dedicated to funding/financing options and the zero emission coach sector, addressing some of the most challenging barriers to ZEB deployment.
For more information, including the full agenda and how to register for ZEB 2023, visit https://zebconference.eu/
The content driven program of ZEB 2023 will:
o
See over 70 speakers and panellists from across the industry, providing lessons learned, best practices and experts' insights.
o
Bring together transport operators, policy makers, manufacturers, and industry experts to discuss decarbonisation of public and private transportation.
o
The conference focuses on technology, economy and policy-related topics affecting zero-emission buses and coaches.
o
Give a complete overview of the considerations for deploying zero emission fleets at scale.
o
New in this edition will be a full day dedicated to zero emission coaches.
o
Scaling up Zero Emission city bus fleets will be one of the key focus during the three first days of the conference whereas initial deployment and 1st experience feedback of Zero Emission coaches will be the key topic for the 4th day.
o
400 attendees from the zero-emission bus sector with over 50 transport operators expected to be represented.
o
Be spread across 4 days allowing ample time to network with those across the zero-emission bus and coach industry. A networking dinner will take place during the second day, Tuesday 10th October.