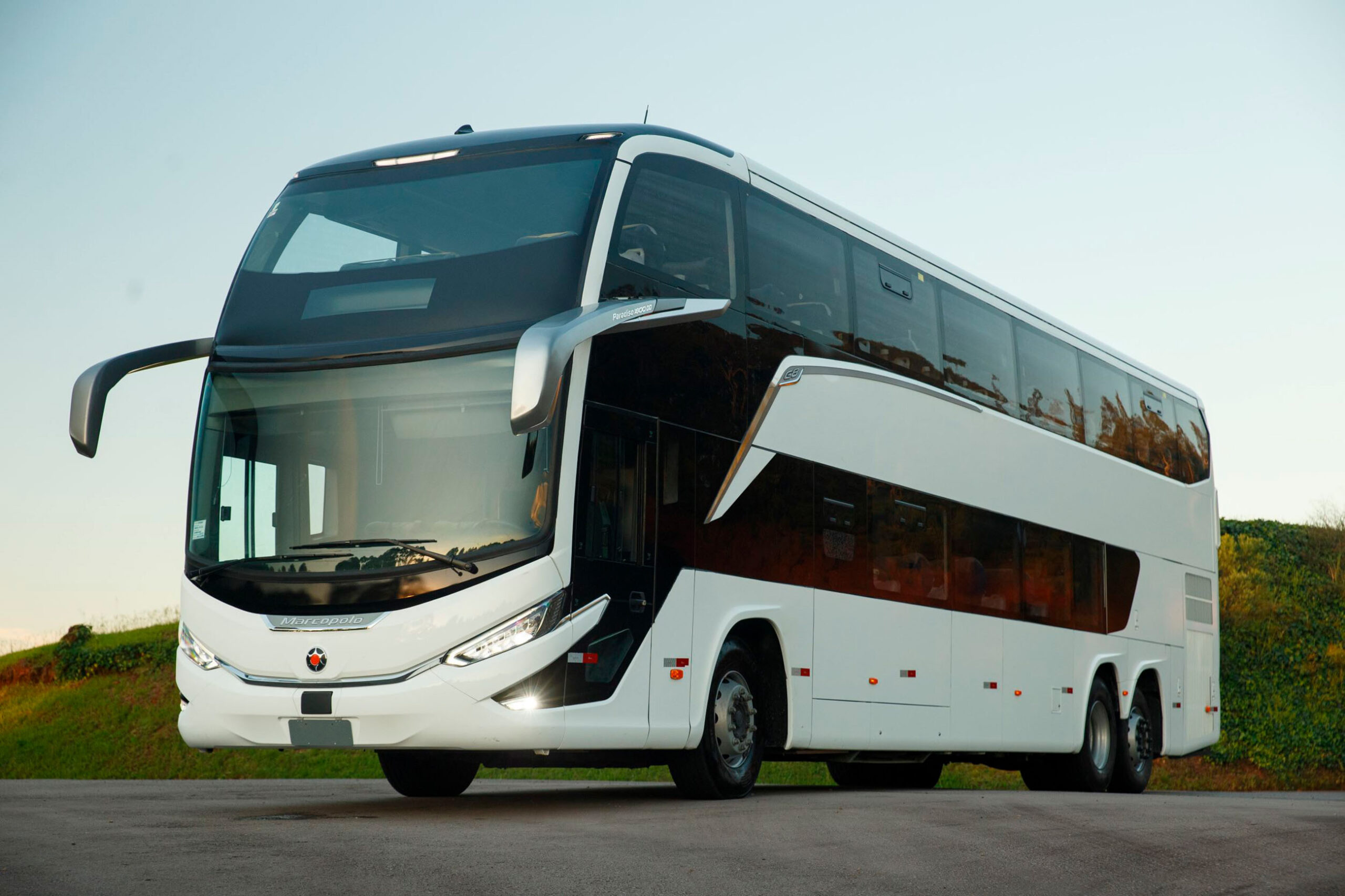 MARCOPOLO EXHIBITS ITS MOST ADVANCED MODELS AT BUSWORLD 2023
 At a trade fair in Europe, the Brazilian manufacturer is presenting the Paradiso 1800 DD Generation 8 buses and the Audace 1050 Fuel Cell
 Marcopolo, the leading developer of mobility solutions in Brazil and positioned among the largest in the world, participates in the 2023 edition of Busworld Europe, one of the most important events in the bus industry, which brings together manufacturers, suppliers, transport and service operators, between October 7 and 12, in Brussels, Belgium.
During the event, visitors will get to see two of the company's most modern vehicles that are developed for the international market: the Generation 8 Paradiso 1800 Double Decker bus, the most successful model of the brand in its segment, and the Audace 1050 Fuel Cell. The buses incorporate the latest technologies available for reducing pollutant gas emissions, safety, comfort and efficiency.
"The Paradiso G8 1800 DD is the most sophisticated bus of the brand, with great acceptance in the main markets in which we operate. Audace Fuel Cell, produced at our unit in China, proves its expertise in the development of zero or low emission solutions. These designs reinforce our global presence, with manufacturing units and development centers in different regions around the world", explains André Armaganijan, CEO of Marcopolo.
New standard of comfort and safety
The Paradiso G8 1800 DD represents a breakthrough in innovation for Marcopolo, with exceptional standards of safety, comfort, connectivity, drivability and ergonomics for passengers and driver.
The model is visually striking and its design was awarded by IF Design 2022, in addition to having Marcopolo's DNA, with fluid lines, low aerodynamic coefficient, of only 0.384, and meets the strictest international safety standards, such as ECE R66.02 certification, granted by the British Vehicle Certification Agency (VCA) for rollovers.
"We always seek to create innovative and valuable transport solutions for passengers and operators. Generation 8 is designed to make the brand's buses even safer, more comfortable, more efficient and more profitable. We want to provide a new travel experience", says Armaganijan.
The model presented at Busworld Europe 2023 has a Scania K 500C B6x2*4NI Euro 6 chassis, with a Scania DC13 engine, 13 liters and 500 hp of power, Opticruise transmission, air suspension and 500 liter fuel tank. Fifteen meters long, 2.6 meters wide and 4.23 m high, the bus has the capacity to carry 35 passengers, 29 people on the top floor and six on the bottom floor. All seats are sleeper seats, with individual monitors and USB ports (type A and C), and, on the bottom floor, the seats also have a massage system.
For the convenience and comfort of passengers, the vehicle is internally monitored using recording cameras, has air conditioning and heating, internal lighting system of the top floor passenger lounge has LED Biolighting and an audio and video system with DVD and Wi-Fi. The bottom floor has two restrooms, three refrigerators (an 8-liter unit for the driver, one on the bottom floor with 20 liters and another on the top floor with up to 70 liters), as well as a drinking fountain and space to transport pets.
Drivers benefit from the ERV system, with cameras that replace mirrors and eliminate blind spots, infrared technology that optimizes night vision, pneumatic Isri driver's chair, and cabin with air, sound and anti-panic system.
The vehicle also features passive and active safety systems, such as ADAS AEB, LDW and ACC, telemetry and full LED headlights.
The road to decarbonization
In search of solutions that contribute to the decarbonization of passenger transport, Marcopolo presents the Audace 1050 bus powered by hydrogen fuel cell. Developed in partnership with Sinosynergy and Allenbus, the vehicle is produced at the company's factory in China and is approved for sale in Europe.
In the partnership, high-tech hydrogen fuel cell manufacturer Sinosynergy supplies the core part of the fuel cell solution, including the membranes and Fuel Cell drive. The chassis is supplied by Allenbus, manufacturers of commercial, electric and hydrogen fuel cell powered vehicles and chassis. 
The hydrogen-powered Audace 1050 has the capacity to carry 53 passengers and a range of up to 600 kilometers. The model can be produced in options with a length of 12.9m, a width of 2.50m and a wheelbase of between 6m and 6.5m.
The vehicle has a Danfos permanent magnet synchronous motor with a nominal power of 140 kW (peak 222 kW) and nominal/peak torque of 495/720 Nm. The bus also has two 160 kW Sinosynergy G80-001 Fuel Cell batteries, four 350 bar type 4 hydrogen tanks and a water cooling system with four CATL, LiFeO (Lithium Iron) storage battery packs. It is also equipped with a 4-speed EATON AMT transmission, ZF RL75E independent front axle, ZF AV133 drive rear axle, ZF THP90 hydraulic gearbox, Knorr air suspension system and Knorr brakes (with EBS, ESP, AEB, LDWS).
The Audace can also be produced with the pure electric powertrain option, with CATL, LiFeO (Lithium Iron) energy batteries of 423 kwh, with 12 packs, and a range of up to 500 kilometers on highways and around 600 kilometers in urban conditions.
About Marcopolo
Founded 74 years ago in Caxias do Sul (RS), Marcopolo is a leader in the manufacture of bus bodies in Brazil and ranks among the largest manufacturers in the world. The company is committed to the future of mobility, attentive to the development of new modes of transport, in addition to continuously investing in improvement, technology, design and expansion, producing solutions that contribute to the development of collective passenger transport. With factories on five continents, the vehicles produced by the company drive on the roads of over 140 countries.